The message is loud and clear with the number of users growing continuously and brands aligning themselves to match the expectations of their valued customers that social media has gone big and bold than ever before. Further in this blog, we list the most popular social media platforms for businesses in 2023, our top four social networks from the lot, and how to market on each one.
These are the most popular social media platforms for marketing in 2023.
Facebook
Instagram
Linkedin
Twitter
FACEBOOK
This is the biggest and the most popular social media platform around the globe due to its versatility. It is the best, particularly for the following reasons:
For local marketing
If you didn't know already, Facebook is up there with Google Business Profile as one of the top local business directories, which doesn't come as a surprise because a Facebook business page contains the following:
Description, category, price range
Contact information, hours, photos
Call-to-action button, reviews, instant messaging
Furthermore, a survey shows that about two-thirds of Facebook users across all countries visit a local business Page at least once a week. Perhaps, this is one of the reasons you should promote your business, use it to build relationships, engage with your customers, and connect with your local community to keep them updated.
For advertising
Facebook is the best platform to reach and connect with new audiences, but not organically. Its organic reach is merely 2.2% as compared to Instagram's at 9.4%. But thanks to its size and target capabilities, Facebook is linked with Google as the top digital advertising platform. Using Facebook ads is the right choice as you can potentially reach up to 36.7% of the total population.
Photos and links (and videos)
Interestingly, the most popular types of posts on Facebook are the ones with photos and links. But that's just the quantity of posts – not engagement of posts. Photos and links are a good bet because that's what users expect, and they're easy to create. Although, posting videos is much better, giving you an edge over your competitors.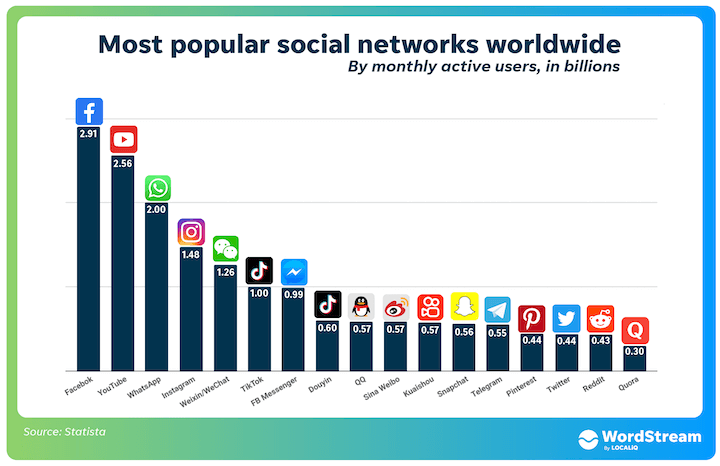 For building a community
Users often visit a business's Facebook page to check for any updates, announcements, and other relevant information. It allows you to build a community of supporters, so you don't have to worry about your customers and followers not staying in the loop about news and changes happening around your business.
Some of the most popular industries with the highest conversion rates on Facebook are beauty, fitness, jobs, education, employment, and job training.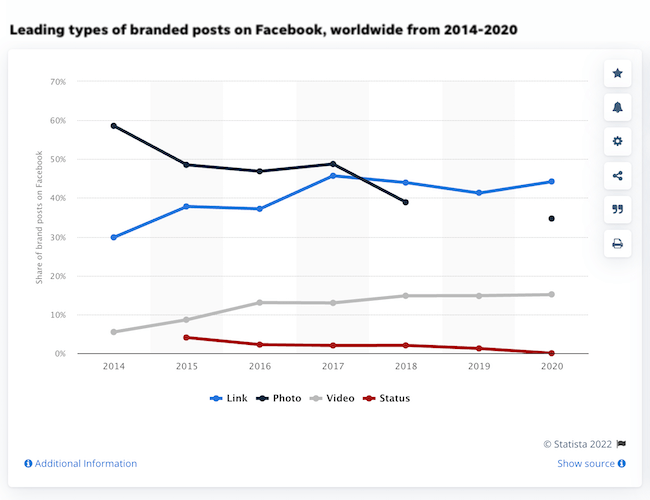 INSTAGRAM
It is the most popular social media platform for the most apparent reason, visual appeal, which should not be an isolated marketing strategy but a staple for all of your business strategies.
Here's why it stands out from the rest:
E-commerce
Advertising costs on Instagram may be higher than on Facebook, but the purchase intent is also high on this social platform, with 36% of its users using it to follow brands (compared to 19% on Facebook).
Instagram's organic engagement rate is the highest among all the platforms – 10 times greater than Facebook, 54 times greater than Pinterest, and 84 times greater than Twitter. Instagram has transformed the way people shop now and these statistics support the fact further.
81% of Instagram users say it helps them discover new products or services.
72% of users report making a purchase decision based on seeing something on Instagram.
50% of users have visited a website to purchase a product or service after seeing it on Instagram stories.
Influencer marketing
This shouldn't come as a surprise, but Instagram is quite popular amongst influencers. Also, marketers spend almost 69% of their influencer marketing budget on Instagram, which is a lot more than any other social network.
Some of the most popular industries thriving with Instagram marketing are travel, beauty, fashion, health & fitness, lifestyle, food, business, photography, music, and animals.
LINKEDIN
LinkedIn has a lot more to offer than you think. Here are some of the strong points that define it better.
Business-to-business (B2B) marketing
It is one of the best business-based social media platforms because it makes up half of all social traffic to B2B websites and blogs. Additionally, it has 61 million senior-level influencers and 65 million decision-makers. Furthermore, 80% of B2B leads come from LinkedIn.
Organic engagement
LinkedIn's organic engagement rate is double that of Facebook's. Since people use this platform for business and professional networking purposes, they are naturally receptive to content and messages of transactional or marketing nature.
Also, since there are fewer posts and members on LinkedIn than on Facebook, the competition is much less. No wonder why 95% of B2B marketing professionals use LinkedIn to get organic engagement for their content.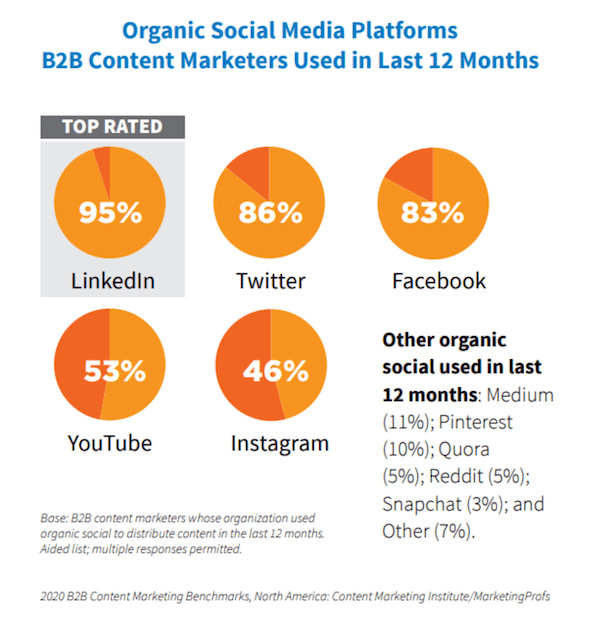 Long-form content
Posts in article format get the most views, likes, comments, and shares on LinkedIn.
Privacy
LinkedIn is the most reliable social media platform since most users indicate they feel the most confident about protecting their privacy and data.
The most popular industries on LinkedIn are IT, hospital and health, construction, retail, and education management.
TWITTER
This social media platform is all about expressing your brand in no more than 360 characters, probably its most prominent and distinguishing feature.
Customer service
Twitter has turned into a go-to channel for customers to reach out to brands because of its fast-paced and direct-connect nature. A recent survey highlights that two out of three people choose Twitter as their preferred social media channel for customer care.
Brands get to build their reputation alongside offering customer service since Twitter is a public-facing social media platform.
Images
Videos may get favorited 49% more than images, but images get 128% more retweets than videos, according to Quicksprout. So, use images more often for your Tweets and get better responses.
Advertising to male counterparts
Twitter's global user base is 70% males and 30% females, but according to Influencer Marketing Hub's reports, this gap is smaller in the U.S.
News and updates
Twitter is more popular than Facebook since 56% of users get news and updates from Twitter compared to only 38% from Facebook.
These figures also mean you should consider sharing industry news with your audiences on Twitter.
The most popular industries with the highest engagement rates on Twitter are education, sports teams, food and beverage, alcohol, restaurants, auto, healthcare, and non-profit organizations.
Endnote
All four social media platforms listed above are unique and beneficial, but managing them manually each day can be challenging.
Thankfully, Automated Social Media marketing tools like Practina can help you master social media marketing without any prior experience and transform your business.
Visit www.practina.com to discuss your business goals with our team of professionals or sign up today to get started right away.